As Seen in American Way Magazine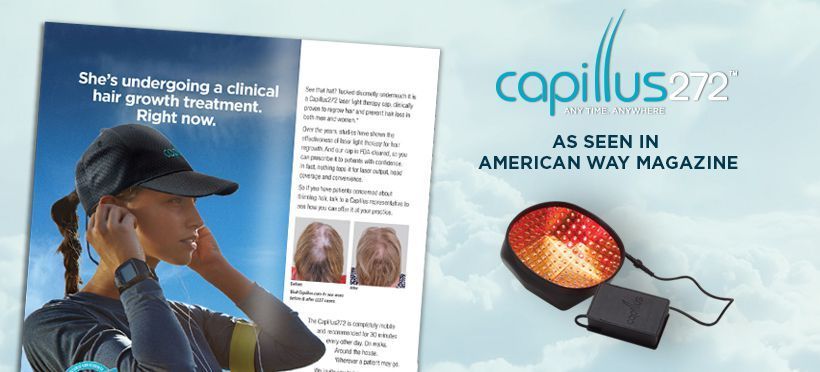 A Practical Way to Treat Hair Loss
With 272 low level laser diodes, the FDA-cleared Capillus272® phototherapy device is designed to promote and stimulate cellular activity around and within the hair follicle. For more than 40 years, the use of low level laser therapy (LLLT) has implemented by dermatologists, orthopedists, surgeons, and other medical professionals to reduce pain, inflammation, and promote cellular regeneration [i]. Now, the power of LLLT is available in a comfortable device that covers the entire scalp for safe and convenient treatment, on your terms.
FDA Cleared. The Capillus272 Pro has been cleared by the Food and Drug Admininstration by a 510(k) for the promotion of hair regrowth in adult men and women with androgenic alopecia (AGA) having Ludwig Savin classifications I-II or Norwood Hamilton classifications of IIa to V and Fitzpatrick Classification of Skin phototypes I to IV.
Safe & Effective

It is a safe & effective treatment method for genetic hairloss, which has been cleared by the FDA.

The Only FDA-Cleared Laser Therapy Cap

It is the only mobile, laser technology cap (does not include helmet devices) to be cleared for legal distribution within the USA

Easy & Convenient

It is easy to follow, discreet & comfortable to use. Quick and easy to wear a few times per week under any ball cap.

Made in the USA

Every Capillus272 Pro unit is hand-made in the USA, ensuring complete control of quality and service

Scientifically proven to work

The Capillus272 Pro has been proven to work in an independently-reviewed clinical trial. There was an average increase of 51% in hair counts in active participants within 16 weeks. See clinicaltrials.org

Physician Managed

Capillus is managed by physicians specializing in hair restoration to ensure the best treatment protocol for patients

Non-invasive

It is a non-invasive and non-pharmaceutical option with no known side-effects.

Can be used with other therapies

It can be used in combination with other therapies, such as minoxidil, finasteride, and hair transplants.

More Laser Coverage & Energy Output

It is a non-invasive and non-pharmaceutical option with no known side-effects.

State of the art laser technology

All laser technology – no LED light used
Pictures speak louder than words. We invite you to browse through the cases below of patients before and after undergoing LLLT for hair loss.
Testimonials from Physicians
"Laser therapy is a wonderful product for both men and women alike. I do find that some women are not good candidates for a transplantation because the donor density is insufficient. [Laser therapy] is a wonderful option, for women especially to use, because it can stabilize further progression of the thinning hair. Thinning hair is women is devastating. Anything we can do that is medically sound, scientifically proven to treat them is what I want to offer to them. Laser therapy is a wonderful option,"
"[Capillus272] is a very user-friendly device. It can be used when driving to work, when you are exercising, walking outdoors. It is so simple that there is no reason why not to use device and have results."
"I like the type of lasers that you can actually put on the scalp and walk around because it has a battery pack. That seems to be the laser that is most compliant with patients and compliance means efficacy."
"Without many effective non-surgical options available for hair loss, we have found the FDA [cleared] Capillus laser cap to be a great solution for our patients both female and male. We promote [the Capillus272] that has the backing of scientific studies and is [cleared] by the FDA [with clinical study results shown] to increase hair by over 50%"